Investor Overview
Corporate Profile
Outlook Therapeutics is a late clinical-stage biopharmaceutical company focused on developing and commercializing ONS-5010, a complex, technically challenging and commercially attractive monoclonal antibody, or mAb, for various ophthalmic indications. Our goal is to launch ONS-5010 as the first, and only, approved bevacizumab in the United States, Europe, Japan and other markets for the treatment of wet age related macular degeneration (wet AMD), diabetic macular edema (DME) and branch retinal vein occlusion (BRVO).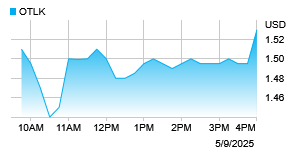 Copyright West LLC. Minimum 15 minutes delayed.
Latest News
August 14, 2019
July 16, 2019
June 3, 2019
Presentations
The Corporate Presentation will be updated soon.
Upcoming Events
More events are coming soon.